It is that time of year again when school work starts piling up and students start stressing more and more. Here is a list of five different local activities that students at Cabrini University can do when they need a study break during finals week.
Go ice skating


Going ice skating is a fun winter activity that can be done at many places around Cabrini's campus. One of the most popular places that students could ice skate at is the Blue Cross RiverRink located in Philadelphia. At the Blue Cross RiverRink students can ice skate, have a party in one of the provided cozy cabins, hang out by the fire, grab some ice cream from the Franklin Fountain Confectionery or grab some food and drinks from Chickie's and Pete's.

Play with puppies


Students can also visit Playful Pets, Conshohocken's own puppy specialist store. The puppies in Playful Pets are free to run around the store and hang out with students and other people, who stop by and wish to play with them. Puppies are a huge stress reliever and can be very helpful to college students who are under the stress of finals.

Shop at the King of Prussia Mall


Being that it is less than five miles away from campus, the King of Prussia mall can always be a go-to place to hang out, relax and shop for students that attend Cabrini. Not to mention, the King of Prussia mall is the second largest mall in the country, so there is always going to be something going on there.

Throw some axes


Nothing says relieving stress like throwing axes at targets does. Students can visit Bury The Hatchet King Of Prussia and learn how to throw axes hard enough to make them stick. In fact, on Bury The Hatchet King Of Prussia's website, it is even listed that "throwing an ax at a wooden target for 1+ hours will definitely help relieve some stress and give you a rush of adrenaline and endorphins. A two-hour ax throwing session costs $39.99 plus taxes and fees. Although this activity may seem expensive to a college student, it is guaranteed to relieve some of the stress students have during finals week.

Meditate


Not only is meditating free and is something that a student could do in their dorm, but it also has a number of benefits for college students. Meditating at least once a day can help reduce stress, control anxiety, enhance self-awareness, lengthens one's attention span, and it can also help generate kindness.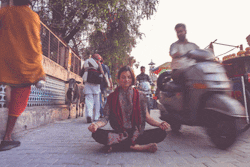 I hope that these tips were helpful and that everyone aces their finals!